Nudoku
Sudoku for your terminal.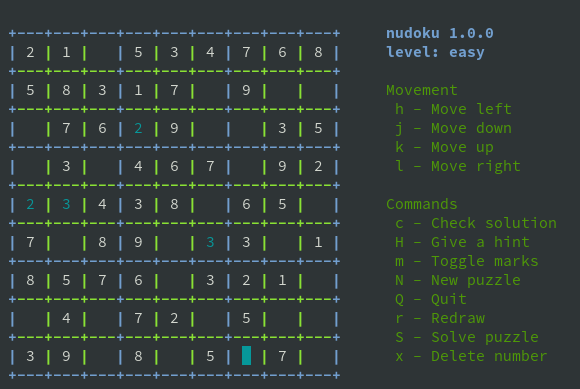 Can't code? Can't hack? Can't do anything cool on the command line? This game will give you an excuse to spend some time in the terminal nevertheless.
Be a cool kid, be in the terminal. Play nudoku!
As a bonus you will even learn the basic vi movement commands.
Features
nudoku can also generate PDF files, like this, containing sudokus and create single sudoku PNGs like the following:

Installation
If you run openSUSE just copy the following into your terminal (yes! the terminal, whoohoo.):
zypper in nudoku
As of now nudoku is also in the official repositores of:
Debian (since stretch)
Fedora
Gentoo
Ubuntu (based on Debian stretch)
Homebrew
If you don't run any of these, well, go read the readme.